PAKISTAN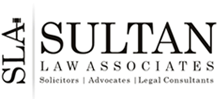 Sultan Law Associates (SLA) is a boutique law firm, which was founded in 2008 whose primary goal is to exceed customers' expectation and to focus on more outcome based legal team for both local and international clients.
The mission of SLA is to provide national and international clients with a comprehensive legal advice and assistance on matters pertaining to English, European, Asian laws and cross border disputes. We exist to attract, maintain and grow clients and evolve as a niche legal service provider in the dynamic environment. SLA is be able to provide a complete client service from one source.
Approach and Work Philosophy
SLA has experience in diverse areas of practice. The Firm regularly undertakes litigation as well as advisory work, counselling, drafting and conveyancing. Our range of expertise includes civil litigation, Corporate, Commercial, Banking, tax, securities and intellectual property work in Pakistan.
As the global marketplace has become ever more competitive, corporations are being forced to streamline operations and reduce costs in order to maintain profitability. Consequently, law firms are being subject to increasing pressure from their respective clients to reduce costs, while maintaining profits per partner. Therefore, law firms are looking at alternate sourcing methods, which reduce their per-person costs while maintaining the quality benchmarks set by them.
In the midst of the growing costs, more and more firms are looking for cheap low cost alternative, which can help them cull their costs while not compromising on their quality and efficiency. SLA provides law firms, attorneys and companies legal services, which reduce their costs while increasing their in-house capacity and associate level support without increasing the head-count.
Dealing with legalities and the technical aspects arising therein is a very complex field. We believe that proper interpretation and understanding of a law, or drafting of legal documents can only be done through professionals well-versed in this field. Therefore, we have a highly skilled work force, a majority of which are qualified Solicitors who are regulated by Solicitors Regulation Authority, who are well equipped to handle any sort of legal and para-legal work
At SLA, we believe in establishing long-term business relationships with our clientele. The only way of harbouring such long-term relationships is by ensuring superior quality service.
Practice Areas