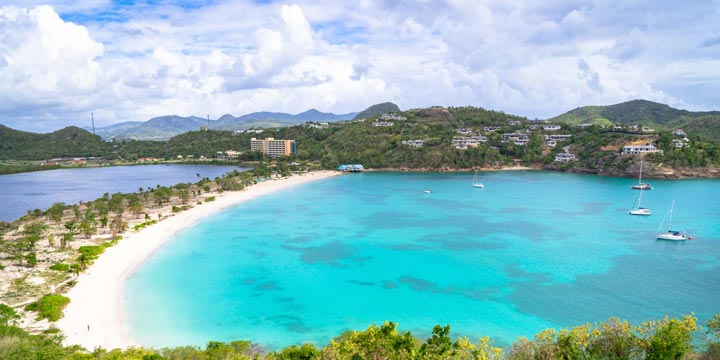 Gaining citizenship of the islands of Antigua and Barbuda, citizens travel
visa-free to around 132 countries which include the UK.
Antigua and Barbuda have English as the official language, but Antiguan Creole is also widely spoken, while you may hear Spanish too.
Describing Antigua and Barbuda you could only say it consists of lush tropical islands, with turquoise waters caressing 365 gorgeous beaches. It is a mixture of British and Creole lifestyle with some of the best education systems and high living standards. Here you find the best hospital, Mt. St. John Medical Center which is the Caribbean's top provider.
While target markets in terms of tourism include Europe, Canada, and the US, tourism generates a significant portion of the income. It is a United Nations member, the Organization of American States, CARICOM and the British Commonwealth aside from various international organizations.
✓
Requirements for citizenship in Antigua and Barbuda
To qualify for citizenship in Antigua and Barbuda an economic contribution is required. Three options are open to applicants who meet the stringent procedures during application.
A minimum of $1, 5 million investment in Antigua and Barbuda either as a joint investor or sole investor in a business.
A non- refundable amount of $100, 000 to the National Development Fund for a family of maximum four people
A $400, 000 investment in Antigua and Barbuda in an approved real estate project that cannot be disposed of within a five-year period
✓
Key Advantages of Antigua Passport
Tax advantages as no personal tax are charged on worldwide income, gift tax, net worth tax or estate duty taxes
Visa-free travel to 115 global countries
Dual citizenship
Living in a socially, legally and economically stable country that is part of the Commonwealth
Zero restrictions placed on repatriation of imported capital and profits
Zero capital gains, inheritance, death or estate taxes
Lifestyle is a stress-free life in a great climate with an abundance of free activities like diving, snorkeling, coastline sailing and much more holiday-style living